Picture: Aerial view of HEROS Sluiskil B.V. in the Netherlands
With a REMEX investment of 16 million euros, HEROS Sluiskil B.V. recently completed the overhaul and extension of its existing plant in Sluiskil, the Netherlands. The 100% REMEX subsidiary has thus secured its position at the forefront of processing specialists worldwide, with a capacity to recycle 700,000 tonnes of incinerator bottom ash per year. Importantly, REMEX installed several innovative technologies – both in order to increase the recovery rates and quality of metals from incinerator bottom ash (IBA) and to produce even better recycled mineral products.
Of course, a central element to the overall project was > MERIT® technology. HEROS integrated the new metal recovery technology into its main plant, additionally increasing the number of eddy-current separators to achieve the best possible results. The new MERIT® technology, which is also available as a separate module for other processing companies, has already attracted significant interest in the industry worldwide.
> learn more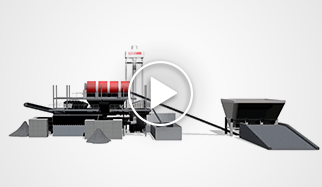 In addition, to achieve the Dutch Green Deal requirements for mineral quality of incinerator bottom ash aggregates, HEROS decided to develop and invest in its own washing plant, which holds a starting capacity of 300,000 tonnes. The washed material is marketed under the > granova® brand and is used in concrete products and asphalt applications. Demand has already surpassed current supply capacities.
With all these initiatives, HEROS and REMEX demonstrate their commitment to a sustainable economy. Ambitions are no longer restricted to Europe, as our competences, technologies and experiences are required in many countries operating municipal solid waste incineration plants. Contact > REMEX if you are interested in more information.